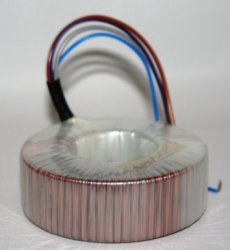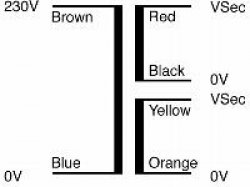 Colour code:
0-230v Blue Brown
0-120v White-Black1st Secondary Black-Red
2nd Secondary Orange-Yellow
Other notes & terms Power rating
VA
To calculate VA is Volts x amps = VA
Current = amps VA / Volts=Amps
HP to Watts
Horsepower to Watts
746 watts equals 1 horsepower.
DC
AC to DC multiply ac voltage by 1.41 and current by 1.7
Dc volts to ac volts dcv x .71
T.P.V Turns per volt
The number of turns required giving one volt.
Turns / volts = tpv
Temperature
All our transformers are designed to run at a max of 60degC above ambient.
Frequency
The mains frequency in the ECC is 50hertz and in the USA 60hertz all our transformers are designed for 50/60hertz. We can design for higher frequency up to 400htz (this will make the transformer small.
With higher frequency transformers wire remains unchanged but core and turns may be significantly smaller (150hz will be one third the size and number of turns)
We cannot step the frequency up or down. This requires a signal generator and amplifier. Almost all-electronic equipment is suitable for 47 to 63htz
Regulation
This is the power lost (heat) in the normal operation of the transformer. A regulation of 6% means the transformer is 94% efficient
Manufactured to Class A 105degC
RoHS Compliant
Class Max Temperature Max Temp Rise
A 105°C 65°C
E 120°C 80°C
B 130°C 90°C
F 155°C 115°C
Losses
Transformer losses do not exceed 2.5watts per kilo (core weight X 2.4) / input voltage
Inrush current
Generally toroidal transformers have a higher switch on surge current which could trip a miniature circuit breaker (MCB), in normal operation. Type 4 or motor rated MCB's should be used in such situations
Inrush current could be more than 50amp for a few micro seconds.
A surge limiter could be provided these are about a £1 each
Copper Wire
Enameled copper wire
Enameled copper wire Polyester/Imides Grade 2 180degC thermal Class H BS6811: 3.3 & Sold able Grade 2 155degC Class F BS6811: 3.9
Copper purity: OFC 99.99%
oxygen free copper)
Testing
All our transformers are 100% tested. Airlink record stands for itself with a 0% in-field failure rate and a 0.02% in-house failure at final 100% test. Airlink transformers are reliable, safe and manufactured to the highest of standards.
HI_POT 3000VRMS between primary and secondary
Faraday shield
Electrostatic screen wound between the primary and secondary
EMI/RFI Shield
GOSS steel band (2 layers)
Leakage
Leakage current: Nominal 100 micro-amps at 230vac

Notes relating to transformers Standards
BS EN 61558 which is entitled "Safety of power transformers, power supply units and similar" It is the specification most commonly called for these days and replaces older specifications such as BS EN 60742 BS3535 and UL1411
We can however issue a certificate of conformity to all these standards

Airlink holds UL certification for UL6500 UL60065 file number E250241 & UL1411 file number E188896-1
UL6500 is the latest update and will replace UL1411 the main difference being the humidity test with UL6500 requires a 3850vdc flash test for 60seconds after being in a humidity chamber at 30degC 95% for 48hours
This category covers audio amplifier assemblies, audio equipment chassis, cable-converter and microwave communication equipment chassis, card-cage assemblies, mixer assemblies, power-supply chassis, preamplifier assemblies, radio chassis, television chassis, video recorder chassis, and similar components intended for use in Audio/Video Apparatus
BS EN 61046 is entitled "Specification for DC or AC supplied electronic step-down converters for filament lamps". This specification may be applicable to the complete equipment but I don't think it can be applied to just the transformer. The testing of the transformer should be determined by reference to BS EN 61558.

Transformers are regarded as a component and as such are considered to be EMC benign. There will be a requirement for RFI testing of the complete dimmer rack and the complete equipment should carry the CE mark. I think it is misleading to CE mark the individual components.
Flammability
The lowest spec is UL94HB
HB stands for horizontal burn this allows for some burning and is the lowest possible rating.
UL94V-0 requires some level of self-extinguishing properties (V stands for Vertical burn)
The potting compound PC5449 is rated at UL94V-0
The Nylon66 pillars is rated at UL94V-2
Crimping
Molex KK Range 3.96mm(.156") Pitch
2way to 5way available from stock
Amp Mate-N-Lok
Universal power coupling and power to board connectors 6.35mm (o.25") pitch.
Push to reset Circuit Breakers
Available from 6amp to 45amps (connected through Brown live).