Electric Vehicle Transformers
Enclosed Charger Transformers
Our enclosed chargers are housed in a tough GRP case and have an IP enclosure rating of IP66. They are portable chargers with a built-in isolating transformer suitable for IT power networks.
Charging Transformer for Renault Zoe
Electric car transformers specifically designed for the Renault Zoe. We supply 10Amp and 16Amp chargers and test to comprehensive safety standards.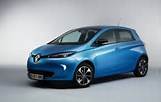 Product Filters
Select the specification of your transformer
Input Voltage: 230
Output Voltage: 230
VA: 4200